03 – 07.01.17. First-week "hjemmekontor" home office. Managed to do a backup of my hard drive and then change the hard drive to SSD. Then I have been installing applications as well as installing new ones. Got new Sibelius 8 and Logic X which should be a big help in my composition process. Worked a bit more on the composition and found out that U have to work on the Ableton Live setup at the same time I am composing. Therefore spent few days working on the setup running into a bunch of unwanted troubles. What I like to be able to do is the following:
Each instrument has it's direct in and out as well as sending a signal to its panning counterpart.
illus.
10 – 11.01.17. Still dealing with latency problems in M4L. Have to check out if the other Sensor is better. The problem seems to be related to WiFi, sensor, and interaction between M4L and Live. Volume sliders way to slow, get worse with more sliders activated. Got my new mixer up but not yet running. Have to do some wiring/cabling. Did record my Flugelhorn valves, have to do more. Had a meeting with Michael Dutch the Contrabass player. A very good meeting, lots of ideas and learning there. Got some material to read (scores) and listen. Next thing to do is to contact Marianne and get info about Cello. Also, write an email to Michael and ask for a recording session when I have decided which technique I am going to use.
List of things to do:
Michael Dutch -> email on the recording
Espen -> email on the recording
Marianne -> email on the recording
Find out who is playing the following instruments in the TSi.
*Trombone —–>
*Trumpet—–>
French Horn —–>
Flute —–>
Clarinet —–>
*Bassoon —–>
Violin —–>
Viola —–>
All in all 11 players + piano. If I need to reduce then take out those with * (9 players minimum).
Continue with Live setup (mix)
illus.
Direct signal (dry instrument signal) goes directly to Group track
Effect signal sends directly to FX Return.
Fx return:
illus.
NB! The conductor v.s. sound engineer – write an article no the different view of conductor v.s. sound engineer.
Need also to start the layout of my thesis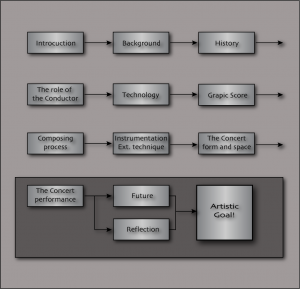 These can be compiled into chapters related to my work plan
Conduct ——> Technology ——> Performance ——> Composition ——> Reflections.
What I want to present
Use of Sensors
Conducting tool —-> Technology —-> Musicianship
Composition —-> Technology —-> Conductor
After Skype meeting with Øyvind.
Abstract —-> Introduction = Documental technique from ´90 tallet
A lot has been added here.
Special application for conducting
The most important is how I am using it
Do not think too much about the technical things
Try to write how the Conducting system works or feels
Document on Composition is 20 pages of technical things.
Make rather a documentation on the artistic output how I use the technology for musical performance.
How I use the conductor
What do I want to accomplish musically with ConDiS
What have I accomplished and what not!
Did I get what I was hoping for?
What is missing
How does if it does the ConDiS affect the composition? is there something that I have to do in the composition to get the system to work?
Put much more emphasis on the Artistic part of my research.
Utvikle —-> Styrken er den kunstneriske bruken.