20.03.18. Working on instruction pages for each instrument. Looking through every movement cutting and pasting. At the same time analyzing the outcome or the performance from the Nordic Tour. Not sure if all the little details are audible in the final performance. Have to meet with each player and make sure how he/she did interpret the written score. During rehearsal, there were some changes that I did not put into the score. Also, have to draw an illustration of the various concert halls that we did perform and analyze how they did affect the performance especially the performance in context to the location of the loudspeakers and the duration of the piece according to acoustic of various halls.
NB! Make a video from 2nd. movement where the conductor does tempo changes.
In the Harpa, concert loudspeakers were hanging down from the ceiling about 4 – 5 meters above the ground. Front speakers were in front of stage and stage was about 1. meter up from audience who sat on a level floor. Back speakers were located to the back of audience c.a. 15 meters from the stage —> the conductor had difficulties to hear the electronics and how it responded to her conducting gestures. There was no monitoring because of a fear of feedback. The same was also for the performers that did not hear the electronics clearly and described their feeling as they only heard their own playing and no connection the electronic part.
The outcome was therefore that the volume of the electronics was more than at later performances where the conductor could hear more of the electronics. It was also difficult for the performers since they did not hear the electronics respond to their playing.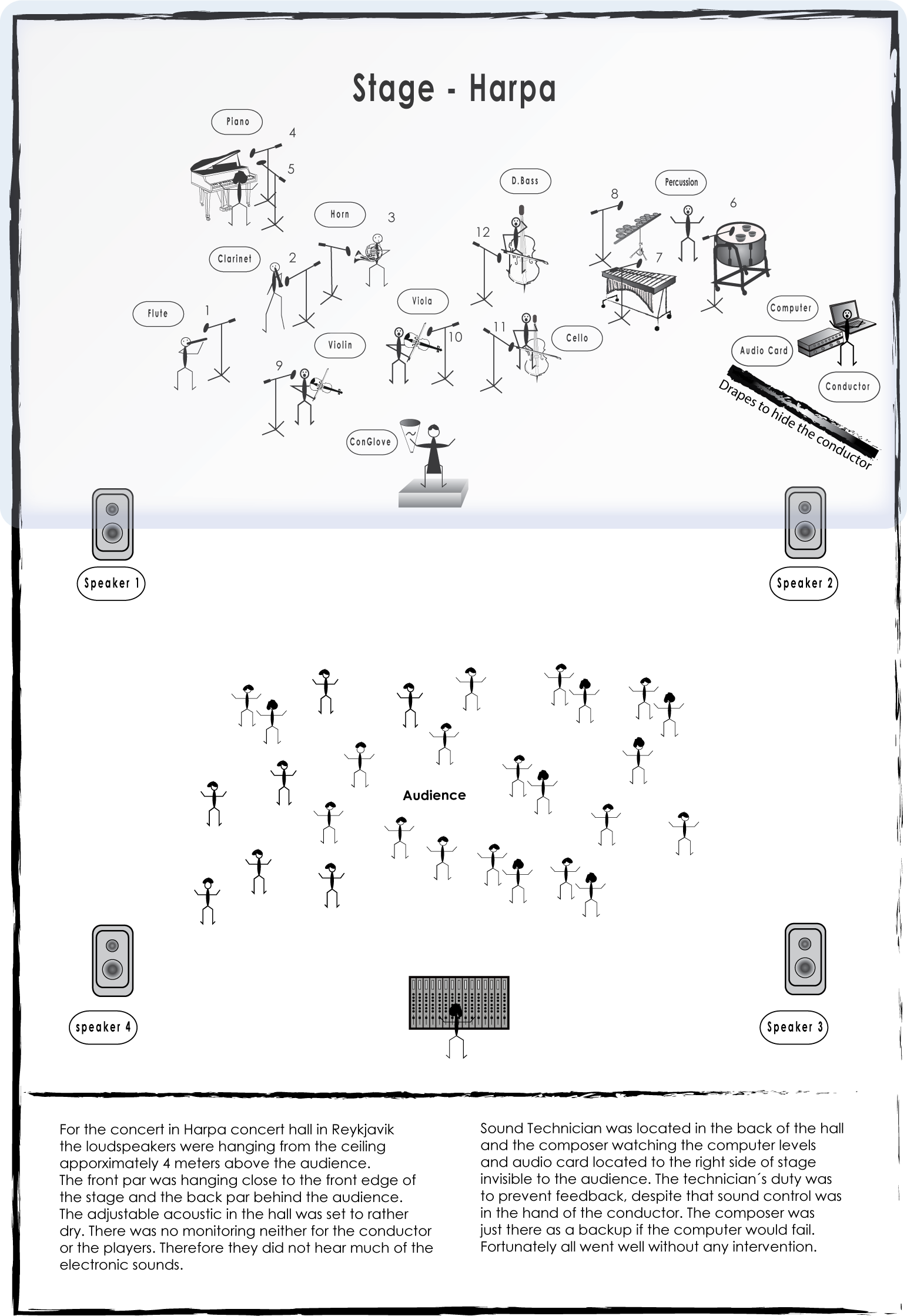 Thorshavn performance – The stage is located on a ground level with the audience seated in a half circle on an escalating platform, like an amphitheater. Front speakers located to the side c.a. 2.5 meter above the stage and back speakers at the back of audience c.a. 2 meters from the upper floor and 5 m. above the stage. The distance between front and back speakers roughly 8 meters.